"What does love look like?" Asked St. Augustine. "It has the hands to help others. It has the feet to hasten to the poor and needy. It has eyes to see misery and want. It has the ears to hear the sighs and sorrows of men. That is what love looks like."
The beautiful and joyful season of Advent is upon us. It is a time set aside during the liturgical year for the festive preparation for the celebration of the Incarnation of our Lord! It is a holy time of preparation … a time filled with humble reflection and gratitude to the Father for everything He has blessed us with in our lives. Advent is a time in which we open our hearts, our minds and our souls to the teaching of Jesus who lovingly instructs us, "For if you give, you will get! Your gift will return to you in full and overflowing measure … whatever measure you use to give — large or small — will be used to measure what is given back to you." (Luke 6:38)
We have a long tradition of coming together as a parish to give generously to those who are in need during these days leading to Christmas. This year we will continue supporting those who depend on us each year, although some of the channels are a bit different. For example, instead of a Giving Tree, we will provide gifts for families at St. Dominic's Outreach Center in Detroit through a toy and gift collection and for foster children in Macomb County through direct sponsorship.
This Advent, please prayerfully consider how you can give generously to one or more of these parish projects a part of your Christmas preparation. If you have questions about any of the 2020 Advent Giving Projects, please contact: Erin Rybicki at (586) 530-0547 or Sandi Brady in the Parish Office at (586) 726-6911.
Monetary Donations: Donations to the Christian Service Fund from now until December 31, 2020, will be divided among the four organizations listed below. You can make a donation through Push Pay on the parish website (https://saintcyrils.church/give/). Please remember to use the drop-down menu and select "Christian Service Fund – Advent" for your Push Pay donation. You may also place cash or a check made out to St. Cyril & Methodius in a 2020 Advent Giving envelope and place it in the Sunday collection basket by December 27, 2020. The envelopes are available in the vestibule on the table below the bulletin board.
1. Friends of the Congo: Many of us remember Fr. Jean Ikanga as a frequent visitor to St. Cyril's, during the holidays while he was a medical student at Emery University in Atlanta. After completing his degree, Fr. Jean returned to the Democratic Republic of the Congo, his home country, and began building a modern maternity clinic in an underserved region of the Congo. At this point the final need for this project is a source of clean water. Raising funds to construct the well has been difficult during the pandemic for Fr. Jean's funding agency, Friends of the Congo. Please help Friends reach its goal to finance the well which will make it possible for the clinic to begin caring for women and children. Donations can be made online at: https://www.congowomensclinic.org/ or by mailing a check to: Friends of the Congo, Inc., 6223 Hough Road, Almont, MI, 48003.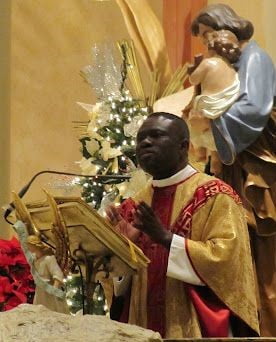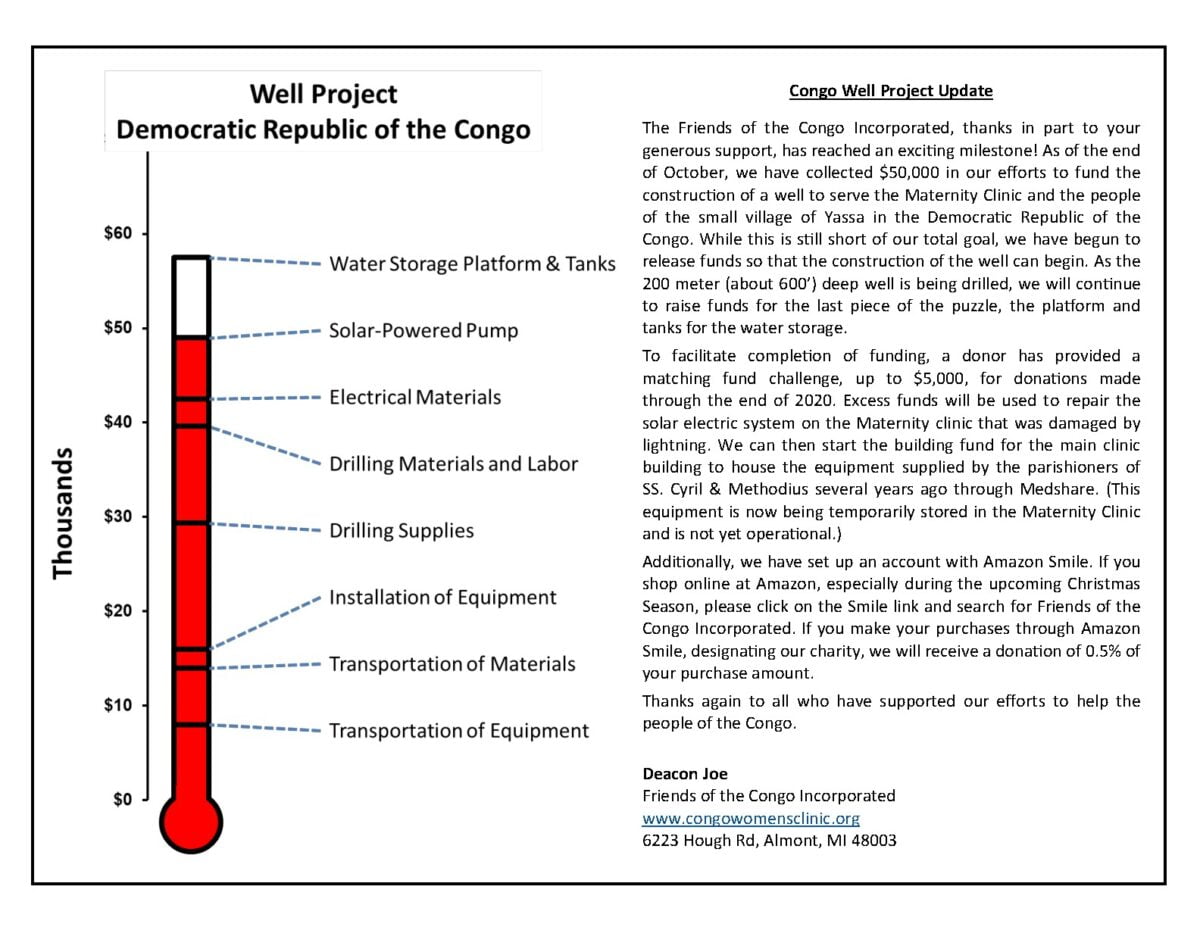 2. Mary's Children Family Center: This day program that provides care and enrichment for 25 adult survivors of traumatic brain injury was closed for 6 months due to Covid concerns. Last month, the center reopened on a limited basis and is once again providing loving care for these very vulnerable individuals. Students at Mary's Children begin their day together with the rosary, then participate in individualized projects and activities, coming together in the center's chapel at the end of the day to pray the Divine Mercy chaplet before going home. With a 2:1 student to caregiver ratio, each student is helped to participate as they are able and to reach their individual, full potential. In the past, our parish has collected cleaning supplies and applesauce cups to help the center offset costs. This year, if you would like to support Mary's Children, you can make a donation online at: https://www.maryschildrenfamilycenter.org/ or mail a check to: Mary's Children Family Center, 495 E. 14 Mile Road, Clawson, MI, 48017.
3. RTL/Lifespan: Every Advent, the parish giving projects include assisting a pro-life organization and providing needed items for pregnant women and mothers of young children who are in need. This year we are supporting Lifespan, a group that has been educating youth and voters here at St. Cyril's and throughout metro Detroit for many years. Lifespan's annual bus trip to the March for Life has impacted many, many youth from our parish over the years; but with no major fundraising during 2020, Lifespan's resources for continuing its many projects are low. Lifespan also provides clothing and other necessities for mothers and babies in need through its Wee Care program. Please donate to either the general fund or to Wee Care online at: http://milifespan.org/donate/ or mail a check made out to: Right to Life/Lifespan Educational Fund (indicate general fund or Wee Care on the memo line) to Lifespan's main office at: 32540 Schoolcraft Road, Suite 100, Livonia, MI 48150-4305.
4. St. Dominic's Outreach Center: "An integrated ministry living the heart of the gospel in the heart of Detroit", St. Dominic's serves its neighbors by operating a food pantry and clothes closet, providing back-to-school supplies, hosting community events, and making referrals for services. With its 2020 fundraising dinner canceled, the center is in great need of operating funds. Please help St. Dominic's continue its many works of mercy by making a donation online at: https://www.stdominicoutreach.org/ or by mailing a check to: St. Dominic's Outreach Center, P.O. Box 32655, Detroit, 48232. (Please do not mail checks to the address on the center's website.)
Slovak Seminary Sponsorship: Since its foundation, our parish has been blessed with the generous pastoral care of priests from Slovakia. This project gives us an opportunity to show our appreciation to the Slovak Bishops for their continued support of Ss. Cyril and Methodius in Sterling Heights and to help build the Church in Slovakia. Currently, 25 men are in priestly formation in Bratislava and two in Rome. You can help cover their fees and expenses with a gift of $300. If you would like to sponsor the seminary, please contact Sandi Brady in the parish office (586-726-6911). You will receive a Christmas ornament with the photo of one of the seminarians to place in your home as a reminder to pray for him.
Toy and Gift Collection: Typically, the majority of the tags on our Giving Tree are for the children and parents of about 50 families that regularly receive assistance from St. Dominic's Outreach Center. This year, we will be collecting those items in a different way. On the weekend of December 12-13, the ushers will be collecting toys and gifts before all Sunday Holy Masses. Bring your unwrapped gifts when you come to Mass and leave them on one of the carts that will be in the vestibule. Toys for children of any age are needed, as well as basketballs, footballs, and soccer balls; parents and older teens appreciate personal care gift sets.
Christmas Cards for Sacred Heart Seminarians: Currently, two St. Cyril's parishioners are at Sacred Heart Major Seminary preparing for the priesthood. They will spend 8 or 9 years in study and formation before being ordained. At Christmas, please encourage them on this journey with a Christmas card or a note of encouragement along with your prayers for their intentions. Send your cards to Charles Giroux or Ryan Walters at: Sacred Heart Seminary, 2701 Chicago Rd., Detroit, MI 48206.
Please remember in your prayers the individuals who will benefit from our gifts, the staff members and volunteers at the agencies that serve them, as well as all the seminarians in Slovakia and at Sacred Heart Seminary. Thank you for your kindness and generosity.