June 13, 6:00PM, HOLY MASS WITH PROCESSION AFTERWARD
On the 13th of each month, from May thru October, join in a very special Holy Mass and procession in honor of the apparitions of Our Blessed Mother to three Shepherd Children in 1917 in Fatima, Portugal.
The Rosary is prayed before Mass. Confessions are heard beginning one half hour before Holy Mass if it is on a weekday.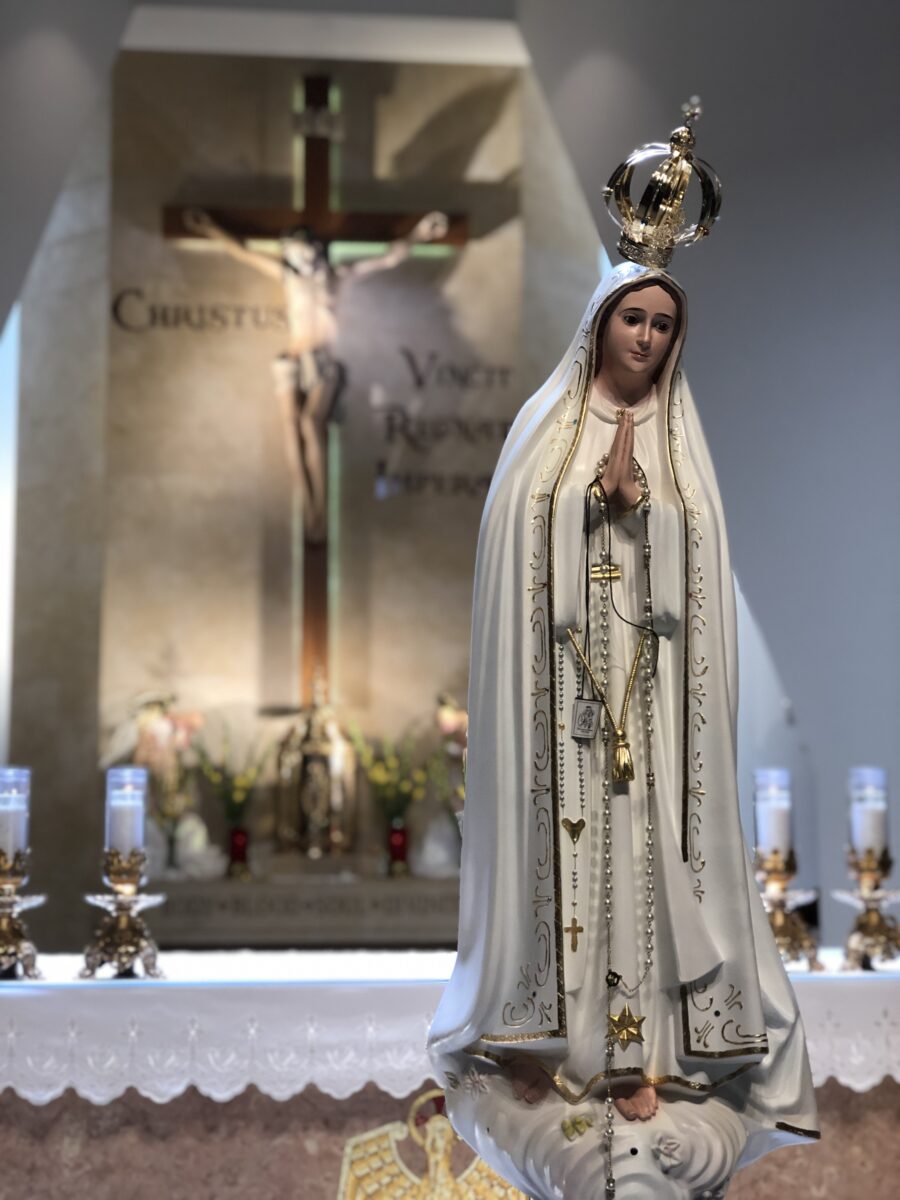 Each Holy Mass concludes with a procession with the statue of Our Lady of Fatima from the Church to the outdoor Grotto, chanting Marian Hymns and Prayers to Our Lady of Fatima. Please join in this special day to honor Our Blessed Mother!
SECOND APPARITION OF OUR LADY OF FATIMA – June 13, 1917
During World War I, Pope Benedict XV made repeated but forlorn pleas for peace, and finally in May 1917, made a direct appeal to the Blessed Mother to intercede for peace in the world. Soon, Our Lady began to appear at Fatima, Portugal to three shepherd children, Lucia dos Santos, age 10, and her cousins, Francisco and Jacinta Marto, ages 9 and 7. Fatima was a small village about 70 miles north of Lisbon.
June 13, 1917: About 50 people turned up at the Cova da Iria on June 13 as the three children assembled near the holm oak tree where the Lady had appeared. The children then saw a flash of light followed immediately by the apparition of Mary as she spoke to Lucia: "I want you to come on the 13th of next month, to pray the Rosary every day, and to learn to read. Later, I will tell you what I want."
Lucia asked Mary to take them to heaven and was reassured in this way: "I will take Jacinta and Francisco shortly, but you will stay here for some time to come. Jesus wants to use you to make me known and loved. He wishes to establish devotion to my Immaculate Heart throughout the world. I promise salvation to whoever embraces it. These souls will be dear to God, like flowers put by me to adorn his throne."
This last sentence is found in a letter written in 1927 by Sister Lucia to her confessor.
Lucia was sad at the first part of this reply and asked: "Am I to stay here alone?" Mary replied: "No, my daughter. Are you suffering a great deal? Don't lose heart. I will never forsake you. My Immaculate Heart will be your refuge and the way that will lead you to God."
One of the witnesses to this apparition, Maria Carreira, described how Lucia then cried out and pointed as Mary       departed. She herself heard a noise like "a rocket a long way off," and looked to see a small cloud a few inches over the tree rise and move slowly towards the east until it disappeared. The crowd of pilgrims then returned to Fatima where they reported the amazing things they had seen, thus ensuring that there were between two and three thousand people present for the July apparition.
Our Lady of Fatima Prayers: http://www.fatimacentennial.com/fatima-prayers