Please join a Call to Mary for a Holy Hour of Reparation and Consolation to Our Divine Lord Jesus in the Most Blessed Sacrament and to Our Most Holy Mother Mary, as we console the Hearts of Jesus and Mary for the offenses, sacrileges, blasphemies, and indifference committed against our Lord in the Most Blessed Sacrament and against the Immaculate Heart of His Most Holy Mother, Mary.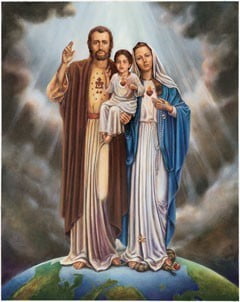 Our Most Holy Mother warned us at Fatima, on July 13, 1917, of the errors of Russia that would spread throughout the world if people did not repent and turn back to God. We are experiencing an abundance of these errors not only in our country, but in the world as well. Our very freedoms are threatened as is the gift of life, the sanctity of marriage and the family and our freedom to practice our Catholic Faith.
The Holy Hour of Consolation will be presented in the Church on Saturday, October 24, at 10:00AM (immediately following the 9:00AM Holy Mass).
Please join us for this crucial hour of prayer, consolation, and reparation as we beg Almighty God's mercy on us, on our nation, on the world, and most especially on the Holy Roman Catholic Church.
For more information, 248-808-8954.