For those who like to shop early for Christmas; for parents looking for a fun Advent giving project for the whole family; for those who just love to make a child happy at Christmas: the parish is going to participate in the Box of Joy project. Box of Joy is a project of Cross Catholic Outreach and the purpose is to provide a Christmas gift to children in the Caribbean and Central America who would not otherwise receive a gift.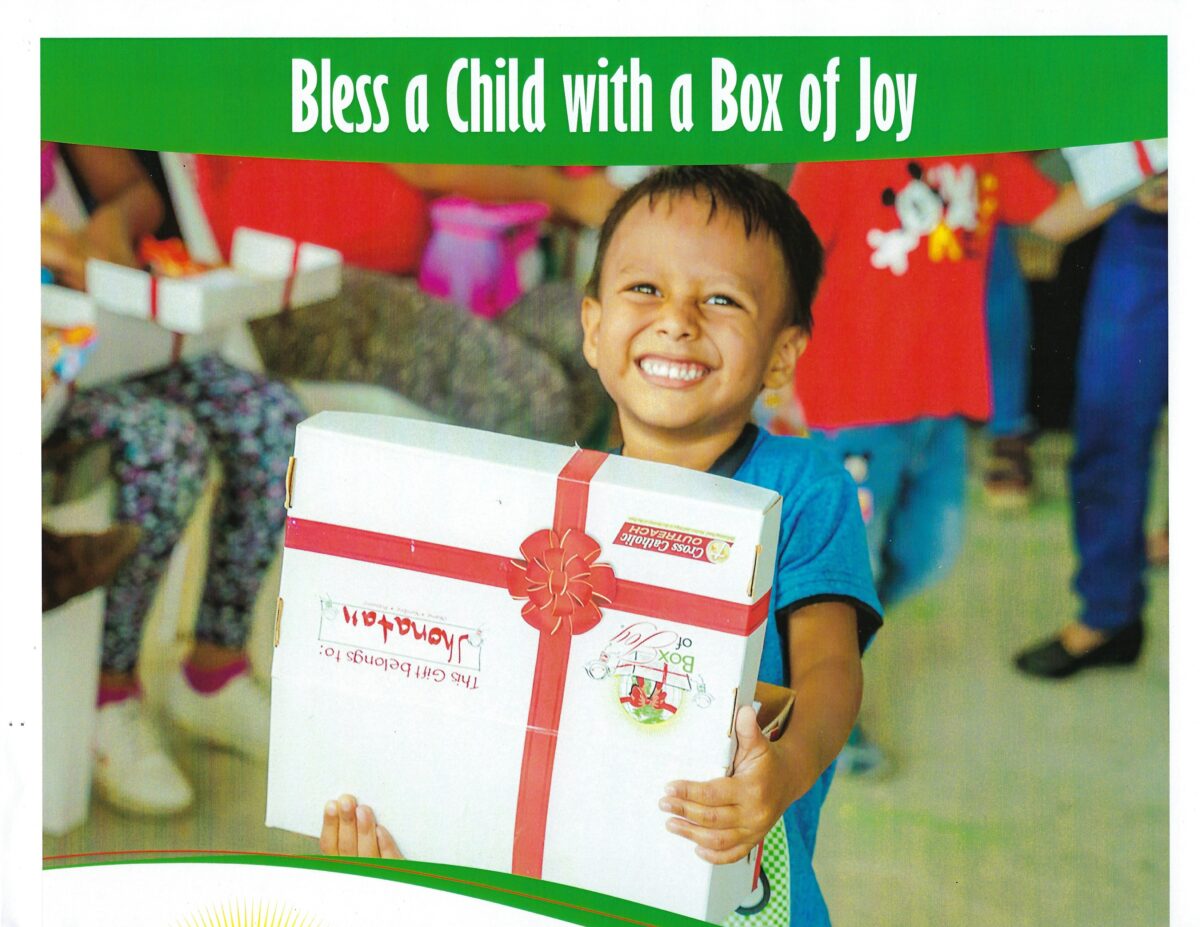 Participants receive a special shoe-box size box along with a list of suggested gifts as well as unacceptable items (such as batteries and liquids). You can choose whether to send a gift for a boy or a girl and the age of the child. Then you fill the box with some necessities (toothbrushes, combs, bars of soap, school supplies) and some fun things (small toys, art or craft supplies, hard candies). Bring the filled Box of Joy and a check for $9 made out to Cross Catholic Outreach (to cover shipping costs) to mass on the collection weekend, and it will be shipped to a child in time for Christmas.
Boxes and instruction sheets will be available after the Saturday evening and Sunday Holy Masses on October 23 and 24.
They will also be available in the Parish Office beginning October 25. Because of the time involved to sort and ship the gift boxes, we will be collecting them before and after the Saturday evening and all Sunday Masses on November 6 and 7.
PLEASE NOTE: These are the ONLY times boxes will be collected at St. Cyril's (November 6 & 7)! The boxes will be packed for delivery on Sunday night, November 7, and will be delivered to a central collection center on Monday, November 8. If you will not be able to return your filled Box of Joy on November 6 or 7, either arrange for someone else to bring it or wait to participate in a different advent project when they begin at the end of November. During advent, the parish will have more opportunities to help those in need, including the Giving Tree which provides gifts for local children and adults.
About Cross Catholic Outreach
This year, Cross Catholic Outreach celebrates 20 years of ministry to the poorest families and communities in the developing world. Since its founding in South Florida in 2001, this official Catholic nonprofit 501(c)(3) relief and development organization has provided over $3.3 billion in aid to help the poorest of the poor in more than 85 countries. Endorsed by over 150 U.S. Catholic bishops, archbishops and cardinals since its inception, Cross Catholic Outreach's mission is to mobilize the global Catholic Church to transform the poor and their communities materially and spiritually for the glory of Jesus Christ. This is achieved by partnering with bishops, priests, religious and lay workers to provide food, water, housing, education, orphan support, medical care, microenterprise, agriculture, disaster relief and spiritual outreach — and the love of our Lord Jesus Christ — to developing countries around the world.
For more information about Cross Catholic Outreach, visit CrossCatholic.org or call 800-914-2420.