The Basilica of Ste. Anne de Detroit is celebrating their annual Novena this month, and members of Ss. Cyril & Methodius should be especially delighted about this event since Eastern Europe Culture will be highlighted on Friday, July 24, the eighth day of the Novena.
If you are unfamiliar, the Novena is nine-days of prayer at the Basilica of Ste. Anne and is one of the oldest devotions in the Archdiocese. This joyful event takes place from July 17-26 and is a decades-old tradition. Each day of prayer has a different theme associated with an ethnic group important to Detroit. On the tenth day, the Feast of Ste. Anne will be celebrated. All will gather to ask Ste. Anne to pray for our intentions, the intentions of our families, our city, our Archdiocese, and our world.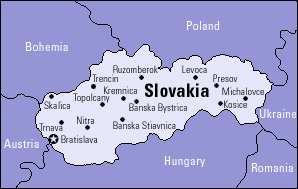 This year, Eastern European Culture will be honored at the 7:00PM Holy Mass on Friday, July 24. Father Libor and Father Juraj will concelebrate at the Mass and members from our Slovak community will participate in the opening procession and during the liturgy, with the Prayers of the Faithful petitions. Everyone is invited to attend, however, indoor attendance is limited to the first 500 people who arrive in person. (*See below)
The annual Novena to Ste. Anne takes place this year in a hybrid event, with in-person Masses and celebrations to the extent allowed in July, along with a live stream for those who cannot attend in person. *Mass will be live streamed on Facebook and open to the first 500 people who arrive in person. Please follow social distance guidelines and wear a mask. Bring a chair for outdoor overflow seating.
NOVENA 2020 July 17 – 26
Weekday Masses at 12:00PM and 7:00PM
Saturday Masses at 7:00PM only
Sunday Masses at 12:00PM only
Friday, July 17 – Honoring Asian Culture:
China, India, Japan, Philippines, Vietnam and Korea
Fr. Hoang Lam, Celebrant and Homilist at 7:00PM Mass
Saturday, July 18 – Honoring African Culture:
African-American Culture, Benin, Congo, Ghana, Kenya, Nigeria, Rwanda and Uganda
Fr. Ted Parker, Celebrant and Fr. John McKenzie, Homilist at 7:00PM Mass
Sunday, July 19 – Honoring French and French-Canadian Culture:
Special recognition of Ste. Anne founders and Ste. Anne School alumni
Fr. Patrick Gonyeau, Celebrant and Homilist at 12:00PM Mass
Monday, July 20 – Honoring Chaldean Culture:
Bishop Francis Kalabat, Celebrant at Homilist at 12:00PM Mass
Tuesday, July 21 – Honoring Latino Culture:
Argentina, Bolivia, Brazil, Chile, Cuba, Dominican Republic, El Salvador, Guatemala, Mexico, Nicaragua and Spain
Bishop Donald Hanchon, Celebrant and Fr. Bernardo Cruz, Homilist at 7:00PM Mass
Wednesday, July 22 – Honoring Albanian Culture:
Fr. Frederik Kalaj, Celebrant and Fr. Marko Djonovic, Homilist at 7:00PM Mass
Thursday, July 23 – Honoring Western European Culture:
Austria, Germany, Italy and Malta
Bishop Arturo Cepeda, Celebrant and Fr. Enzo Andari, Homilist at 7:00PM Mass
Friday, July 24 – Honoring Eastern European Culture:
Croatia, Czech, Hungary, Lithuania, Poland, Slovakia and Slovenia
Bishop Robert Fisher, Celebrant and Fr. Barnabas Kiss, Homilist at 7:00PM Mass
Saturday, July 25 – Honoring Celtic and British Culture:
Ireland, England, Scotland and Wales
Bishop Gerard Battersby, Celebrant and Msgr. Tim Hogan, Homilist at 7:00PM Mass
Sunday, July 26 – Ste. Anne Feast Day:
Mass celebrated by Archbishop Allen Vigneron at 12:00PM
History of Devotion to Ste. Anne
What is known about Ste. Anne comes from the Protoevangelium of James, an apocryphal Gospel written around 145 A.D. Anne was married to Joachim and is the mother of the Blessed Virgin Mary, and therefore the grandmother of Jesus.
Missionaries dedicated a chapel to Ste Anne in France in the 6th century A.D. In France, devotion to Ste. Anne became important when a French peasant, Yves Nicolazic, reported apparitions of Ste. Anne in August of 1623 and 1624. A woman appeared who said: "I am Anne, mother of Mary. There was a chapel built here before that was dedicated to me. I ask you to build it again and take care of it because God wants me honored here."
French missionaries brought the devotion to Quebec, Canada in 1658. Over the centuries several churches have been built in honor of Ste. Anne. The Basilica of Ste. Anne de Beaupre in Quebec was completed in 1946.
Devotion to Ste. Anne in Detroit
Antoine de la Mothe Cadillac founded Detroit on July 24, 1701. Two days later a Mass was celebrated on Ste. Anne's feast day by one of the priests who came with Cadillac. Ste. Anne was the patroness of New France.
Although the novena to Ste. Anne presumably goes back to the beginning of the parish, there was surge of devotion to the saint and to the novena with the building of the current church in 1886. A shrine was constructed in the southeast side of the church. A relic of Ste. Anne was obtained from the Basilica in Paris and is displayed in a reliquary at the shrine. Fr. James Grand (1886-1907) and Fr. Luke Renaud (1907-1919) of the Basilian Fathers of Toronto were pastors during this period.
On April 19, 2017, Most Rev. Allen H. Vigneron, Archbishop of Detroit, decreed that the shrine in the Basilica of Ste. Anne de Detroit is the official Archdiocesan shrine to Ste. Anne. Ste. Anne is the patron saint of the Archdiocese of Detroit.
Ste. Anne de Detroit is located at 1000 Sainte Anne Street, Detroit, MI, 48216. For more information about Novena, please contact the Ste. Anne Parish Office at 313-496-1701 or email kristen.andree@steannedetroit.org.